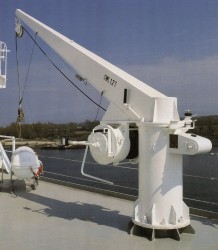 Application
The davit arrangements type ZZ-ZOT are included in the life-saving equipment of vessel and are intended for gravity launching of life raft with set of occupants onto water. The life rafts are pulled from deck outboard vessel after the unloaded outrigger has been slewed. The davit arrangements operate at vessel's heel up to 20° at-either side and trim up to 10°.
Construction
The davit arrangement consists of the radial davit type ZOT, life raft winch,automatic hook and rigging. The davits are provided with remote control of winch brake from inside of the launched life raft.
Design of davits meets the requirements of the following rules:
- International Convention on Safety of Life at Sea SOLAS-74, Chapter III as amended in 1983,
- issued by marine Classification Societies.
Technical characteristic
Type of davit arrangement
ZZ-ZOT15
ZZ-ZOT18
ZZ-ZOT 23
ZZ-ZOT 25
Safe working load SWL [kN]
15
18
23
25
Permissible number of people in life raft
16
20
25
Life raft winch
WT15
WT23
WT23
WT25
Automatic hook
HS30
Slewing of davit
manually with crank handle
Max. lowering height of life raft [m]
40
Life raft winch
12
12
14
16
Weight of davit arrangement without life raft[kg]
1045
1350
1585
1600
Technical drawings for ZZ-ZOT 15/18 & ZZ-ZOT 25/23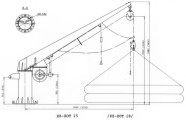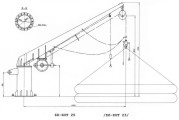 Denotation example:
The life raft davit arrangement of SWL=25 kN, left hand make (L):
ZZ-ZOT 25/L