Pipe Couplings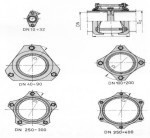 Application
Straight-through sleeve joints of "SEZAMOR" type are designed for connecting pipe sections in various systems on watercraft. They can also be applied in different types of shore installations.
Construction
Straight-trough sleeve joints of SEZAMOR sp. z o.o. type consist of a jointing sleeve, rubber sealing rings, flanges and joint drawbolt. The plug screwed in the centre of the sleeve acts as limiter against slipping off joint from the pipe.
Thermal expansion gap (marked with symbol "X" on drawing) enables expansion joint of pipe sections to be connected and allows to replace the sealing rings without disassembly of pipeline. The joints are protected with anticorrosive zinc coating.
Technical Characteristic
Maximum working pressure for all sizes of joints is 1.6 MPa. Range of working temperatures from 233 K (-40°C) to 403 K (+130°C). Media flowing through pipelines: fresh water, seawater, hot tap water, fuels, oils and other non-aggressive liquids and gasses. Pipelines with joints of SEZAMOR sp. z o.o. type should be protected against a possibility of shifting pipes to be connected. Permissible deviation of axis of symmetry of adjacent pipe sections to be connected with joints is 2° in relation to joint longitudinal axis.
They are made in accordance with the requirements of the following Classification Societies: PRS, LRS, GL, DNV, BV, ABS, Register of Russia.
Example of Designation
Straight-through sleeve joint DN 100 denotes a sleeve joint with a nominal diameter DN 100.
DN
D
DZ
L
Weight
X
[mm]
[mm]
[mm]
[kg]
[mm]
10
67
13.5
60
0.27
12
15
73
20
0.30
20
80
25
66
0.32
25
87
30
0.48
32
96
38
0.55
40
110
44.5
110
1.30
28
50
123
57
2.0
65
151
76.1
120
2.60
30
80
164
88.9
3.10
90
177
101.6
3.70
100
204
108
143
5.30
35
125
227
133
6.0
150
225
159
6.7
200
315
219.1
10.5
250
393
273
195
16.3
40
300
445
323.9
20.0
350
478
355.6
225
24.0
400
529
406.4
30.0
Back to top