Davits Series ŻOP
Application
The radial portable davits of series ŻOP are designed for small cargo handling operations and can be serviced in conditions of vessel's heel up to 5° to either side and simultaneous trim up to 5°.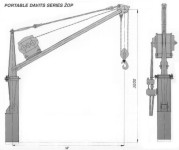 Construction
These davits may be stowed in a vessel's store and mounted for handling operations in the choiced place on the open deck whithout any additional equipment. On completion of the handling works, the davit may be disassembled and transported back to the store. To facilitate such operation, the davit is divided into components of the weight so as the manual transportation, assembly and disassembly would be possible.
Slewing of davit is performed by means of manually serviced guy tackles, which are fastened to the jib head. Maximum slewing angle of davit amounts to range from -180° to +180° with regard to its normal working position.
The delivery includes the davit of series ŻOP in complete with mounted pneumatic winch type WŻP, riging, block and cargo hook ( as per Customer's order ).
The davits are constructed under survey of the Classification Society as required by the Customer and provided with Yard's Quality Control acceptance certificate.
Denotation of davit
Denotation of davit consists of davit name and symbol describing its technical parameters:
Portable radial davit ZOP Q - WZP5P where:
Q - rated hoisting capacity [t];
W - outreach of davit [m];
WŻP5P - symbol of rope winch with pneumatic drive.

Technical characteristic
Denotation of ŻOP
Hoisting capacity
Outreach
Height of outrigger
Type of winch
Rope arrangement
Weight approx.
Q [t]
W [m]
H [m]
/
/
P [kg]
ŻOP 0.5-2.5
0.5
2.5
3.0
WŻP 5P
single rope
310
ŻOP 0.5-3.2
0.5
3.2
3.0
WŻP 5P
single rope
320
ŻOP 0.5-4.0
0.5
4.0
3.0
WŻP 5P
single rope
330
ŻOP 0.63-2.5
0.63
2.5
3.0
WŻP 5P
dual rope
310
ŻOP 0.63-3.2
0.63
3.2
3.0
WŻP 5P
dual rope
320
ŻOP 1.0-2.5
1.0
2.5
3.0
WŻP 5P
dual rope
310
D - foundation bolt location diameter 540 mm;
D1 - foundation outer diameter 620 mm;
d - diameter of 8 holes for foundation bolts 26 mm

Back to top