Davits Series ŻZW
Application
The radial davits of series ŻZW, with adjustable outreach, are designed for handling of small cargos on board the sea-going vessels of unlimited region of navigation. The davits can be operated at rated hoisting capacity under conditions of vessel's heel up to 5° to either side and trim up to 2° whereas the slewing gear can be operated at vessel's heel up to 5° and trim to 5°.
Construction
The davit consists of:
column,
boom,
mast,
hoisting winch type WZP 4,5 of capacity 0,45 t,
outreach adjusting winch type WZP 9,0 of capacity 9,0 kN,
outreach variation gear and electric drive.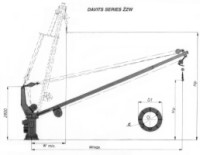 Slewing of davit is performed by means of electric drive, or emergency, manually by means of the crank handle. Special coupling insert protects the davit against simultaneous slewing with both types of drive being applied. Maximum slewing angle amounts to + 135° with regard to davit normal working position. Slewing duration in the angle range from - 135° to + 135°, with electric drive applied, amount to 60 seconds. Cargo hoisting speed at rated capacity amounts to about 10 m/min. Capacity of rope drum of hoisting gear winch equals 40m of wire rope thus enabling hoisting of cargo onto hight of 40 m.
The davit is controlled with portable control cassette.
The davit is delivered in assembled condition with winches, rigging and blocks, foundation, electric installation and electric drive as appropriately preserved.
Denotation of davit
Denotation of davit consists of davit name and symbol describing its technical parameters:
Davit with adjustable outreach ŻZW Q - Wmin / Wmax - '35' (or '46') 'P' (or 'L') where:
Q - rated hoisting capacity [t];
Wmin - minimum outreach of davit [m];
Wmax - maximum outreach of davit [m];
H - height of davit [m];
'35' (or '46') - description of electric drive of rope winch
'35'-3x 380V/50 Hz;
'46' - 3 x 440 V/60 Hz;
'P' (or 'L') - designation of structural variation:
'P' - right-hand make;
'L'- left-hand make;

Technical characteristic
Denotation of Davit
Hoisting capacity
Minimum outreach
Maximum outreach
Height at Wmin
Height at Wmax
Weight approx.
Q [t]
Wmin [m]
Wmax [m]
Hp [m]
Hp [m]
P [kg]
ŻZW 0.45-2.15/6.5
0.45
2.15
6.50
7.15
2.50
1440
ŻZW 0.45 - 2.2/6.75
0.45
2.20
6.75
7.33
2.60
1460
ŻZW 0.45 - 2.2/7.0
0.45
2.20
7.00
7.33
2.70
1480
ŻZW 0.45 - 2.2/7.25
0.45
2.20
7.25
7.44
2.80
1500
ŻZW 0.45 - 2.3/7.5
0.45
2.30
7.50
7.55
2.85
1520
ŻZW 0.45 - 2.4/7.75
0.45
2.40
7.75
8.00
3.00
1540
ŻZW 0.45 - 2.4/8.0
0.45
2.40
8.00
8.00
3.10
1560
ŻZW 0.40 - 2.6/8.25
0.40
2.60
8.25
8.65
3.20
1580
ŻZW 0.40 - 2.6/8.5
0.40
2.60
8.50
8.65
3.25
1600
ŻZW 0.40 - 2.65/8.75
0.40
2.65
8.75
8.85
3.35
1620
ŻZW 0.40 - 2.65/9.0
0.40
2.65
9.00
9.20
3.45
1640
ŻZW 0.30 - 2.8/9.25
0.30
2.80
9.25
9.30
3.55
1660
ŻZW 0.30 - 2.9/9.5
0.30
2.90
9.50
9.65
3.65
1680
ŻZW 0.30 - 2.9/9.75
0.30
2.90
9.75
9.65
3.75
1700
ŻZW 0.30-3.0/10.0
0.30
3.0
10.0
10.00
3.85
1720
D - foundation bolt location diameter 540 mm;
D1 - foundation outer diameter 620 mm;
d - diameter of 8 holes for foundation bolts 26 mm

Back to top