Davits Series ŻOW
Depending on the hoisting capacity and outreach, the davits are made in three structural modifications:

Light duty modification
Mean duty modification
Heavy duty modification
Application
The davits series ŻOW, with manual slewing gear and electrically driven hoisting winch, can be operated at rated hoisting capacity under conditions of vessel's heel to 5° to either side and simultaneous trim up to 5°.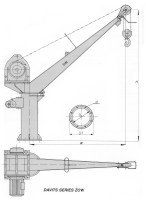 Construction
Rated hoisting capacities Q of the davit series ŻOW are as follows: 0,25: 0,63; 1,0; 1,6; 2,0; 2,5; 3,2; 4,0t. Outreach values W in standard execution of davits are equal to: 1,0; 1,5; 2,0; 2,5; 3,0 and 3,5 m. On the special request, outreach of up to 6,5 m is also possible.
Heights of davits H above the deck amount to: 1,75; 2,25; 2,75; 3,25; and 3,75 m.

Davits are equipped with electrically hoisting winch type WZP of "SEZAMOR sp. z o.o." make. Capacity of rope drum equals to 45 m of rope and allows for hoisting of cargo with speed about 8m/min. onto height of about 22,5 m.
Slewing of davit is performed by means of mechanic transmission gear which is driven with two crank handles. Maximum force applied to one crank handle does not exceed 160 N. Maximum slewing angle of davit amounts to 360°.

Slewing duration by an angle of 90° when cranking with speed 25 rpm, equals appropriately: 33 sec. for light duty modification, 82 sec for mean duty and 118 sec, for heavy duty modification.
Standard delivery of davit includes:
davit series ŻOW with mounted winch type WZP;
rigging with block and lifting hook (as per Customer's request);
davit foundation bolts (as per Customer's request);
electric drive for the winch.
The davits are constructed under survey of the Classification Society as required by the Customer and provided with Yard's Quality Control acceptance certificate.
Denotation of davit
Denotation of davit consists of davit name and symbol describing its technical parameters:
Radial davit ZOW Q - W / H - '35' (or '46') where:
Q - rated hoisting capacity [t];
W - outreach of davit [m];
H - height of davit [m];
'35' (or '46') - description of electric drive of rope winch
'35'-3x 380V/50 Hz;
'46' - 3 x 440 V/60 Hz;
Technical characteristic
ŻOW Light Duty Modification
Denotation of Davit
Hoisting Capacity SWL
Outreach
Type of Winch WŻP
Weight approx.
Q [t]
W [m]
/
P [kg]
ŻOW 0.25-2.5 / H
0.25
2.5
WŻP 5/16
410
ŻOW 0.25-2.0 / H
0.25
2.0
WŻP 5/16
400
ŻOW 0.25-1.5 / H
0.25
1.5
WŻP 5/16
380
ŻOW 0.25-1.0 / H
0.25
1.0
WŻP 5/16
370
ŻOW 0.63-2.0 / H
0.63
2.0
WŻP 5/16
390
ŻOW 0.63-1.5 / H
0.63
1.5
WŻP 5/16
380
ŻOW 0.63-1.0 / H
0.63
1.0
WŻP 5/16
370
ŻOW 1.0-1.5 / H
1.0
1.5
WŻP 5/16
400
ŻOW 1.0 -1.0 / H
1.0
1.0
WŻP 5/16
390
ŻOW 1.6-1.0 / H
1.6
1.0
WŻP 12.5/15
660
D - foundation bolt location diameter 340 mm;
D1 - foundation outer diameter 400 mm;
d - diameter of 8 holes for foundation bolts 22 mm
H - height of outrigger 1.75; 2.25; 2.75; 3.25; 3.75 m
Back to top
ŻOW Mean Duty Modification
Denotation of Davit
Hoisting Capacity SWL
Outreach
Type of Winch WŻP
Weight approx.
Q [t]
W [m]
/
P [kg]
ŻOW 0.25-3.5 / H
0.25
3.5
WŻP 5/16
550
ŻOW 0.25-3.0 / H
0.25
3.0
WŻP 5/16
530
ŻOW 0.63-3.5 / H
0.63
3.5
WŻP 5/16
550
ŻOW 0.63-2.5 / H
0.63
2.5
WŻP 5/16
530
ŻOW 1.0-3.5 / H
1.0
3.5
WŻP 5/16
550
ŻOW 1.0-3.0 / H
1.0
3.0
WŻP 5/16
530
ŻOW 1.0-2.5 / H
1.0
2.5
WŻP 5/16
510
ŻOW 1.0-2.0 / H
1.0
2.0
WŻP 5/16
490
ŻOW 1.0-1.0 / H
1.0
1.0
WŻP 5/16
480
ŻOW 1.6-2.5 / H
1.6
2.5
WŻP 12.5/15
910
ŻOW 1.6-2.0 / H
1.6
2.0
WŻP 12.5/15
870
ŻOW 1.6-1.5 / H
1.6
1.5
WŻP 12.5/15
850
ŻOW 2.0-2.0 / H
2.0
2.0
WŻP 12.5/15
810
ŻOW 2.0-1.5 / H
2.0
1.5
WŻP 12.5/15
780
ŻOW 2.0-1.0 / H
2.0
1.0
WŻP 12.5/15
750
ŻOW 2.5-1.5 / H
2.5
1.5
WŻP 12.5/15
810
ŻOW 2.5-1.0 / H
2.5
1.0
WŻP 12.5/15
780
ŻOW 3.2-1.0 / H
3.2
1.0
WŻP 20/15
880
D - foundation bolt location diameter 440 mm;
D1 - foundation outer diameter 500 mm;
d - diameter of 8 holes for foundation bolts 22 mm
H - height of outrigger 1.75; 2.25; 2.75; 3.25; 3.75 m
Back to top
ŻOW Heavy Duty Modification
Denotation of Davit
Hoisting Capacity SWL
Outreach
Type of Winch WŻP
Weight approx.
Q [t]
W [m]
/
P [kg]
ŻOW 0.63-6.5 / H
0.63
6.5
WŻP 5.0/16
770
ŻOW 1.0-5.0 / H
1.0
5.0
WŻP 5.0/16
770
ŻOW 1.0-4.0 / H
1.0
4.0
WŻP 5.0/16
760
ŻOW 1.6-3.0 / H
1.6
3.0
WŻP 12.5/15
915
ŻOW 2.0-2.5 / H
2.0
2.5
WŻP 12.5/15
850
ŻOW 2.5-2.0 / H
2.5
2.0
WŻP 12.5/15
830
ŻOW 3.2-1.5 / H
3.2
1.5
WŻP 20/15
910
ŻOW 4.0-1.0 / H
4.0
1.0
WŻP 20/15
880
D - foundation bolt location diameter 540 mm;
D1 - foundation outer diameter 620 mm;
d - diameter of 8 holes for foundation bolts 26 mm
H - height of outrigger 1.75; 2.25; 2.75; 3.25; 3.75 m

Back to top